Is financial freedom possible in 2021?
I thought I would review the plan for financial freedom and see if this is something to still pursue in 2021. The world has been through a lot and I think we can all agree, we are a little over lockdowns and pandemic scares. With the scary times come even scarier bank accounts and drained savings. People tend to panic and start to store money under a mattress. Unfortunately, that mattress is often on fire and eating away at your precious dollars. This article by Nzherald seems to back up my hypothesis. Now that I've totally depressed you, I am here to tell you that it's not all that grim and there is genuine hope.
Where it all started
I thought it would be a good idea to review the very first article I wrote. I am reposting it here to show you that we've started more than two years ago and we are not doing anything special. The results we've yielded is far beyond what we could have imagined.  
Well hello there…
Thanks for stopping by. I wanted to start a blog (that is what you do in 2019 right?) that allows me, and anyone else who has a passion for investing to share ideas and strategies that are tried and true. This blog won't be for anyone looking for the latest crypto tip.
This blog will however be for Kiwi's (and well anyone else) but mostly for Kiwi's. Originally I am from South Africa. I am now however a citizen of beautiful New Zealand. Enough of me more on why this blog exists!
Well to do this blog justice we need to start with the name. "Firelife" Fire as it is commonly known stands for financially independent & retire early (fire)
This term REALLY caught my attention in the last couple of months of my life (More on my life in the coming blog posts). The idea of becoming financially independent and retiring early sounds great in theory but well… how would this
even be remotely possible in "todays economic climate"
Countless hours of reading other blogs and listening to dozens of books later I realized almost anyone can do this. I say can be done because I am only 26 years old and this blog will be our journey in the form of 2 things namely :
1.) Our journey to financial freedom with a bi weekly update of our investment portfolio including what stocks we have and why we have them.
2.) Helpful actionable advice that anyone can follow to start their own journey
The blog will be in the following format :
Blog topics  (To help you the reader get to financial freedom)
My current portfolio and thoughts
Q&A from you! (Email is at the bottom, please ask anything and if it is relevant I will answer it for all to see! Chances are that someone else is wondering the same thing)
Thats it for this week, I have so much to write and cover. So excited about how many Kiwi's will change their financial future by approaching money a different way!
If this post has added any value to you, please sign up to Sharesies (the platform I use, for New Zealand residents only)
Not only is it completely free to start with no joining fees or minimum, if you click this link not only will I get $5 YOU will get $10… it is literally free money if you sign up! Whats not to love.
Our Portfolio :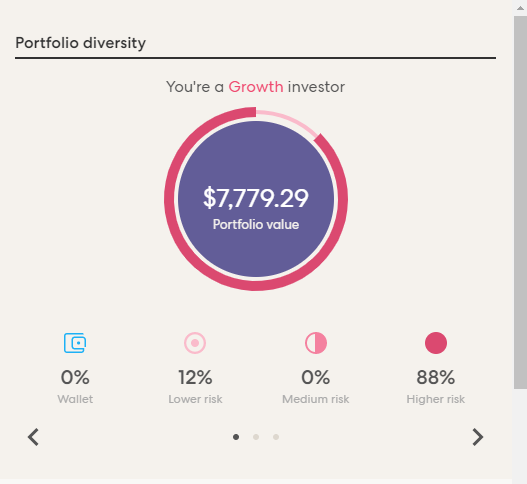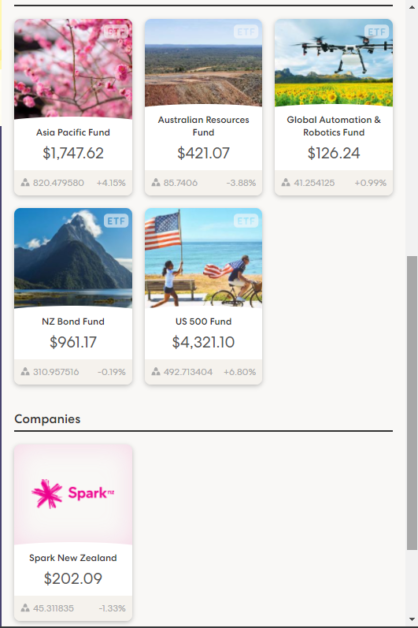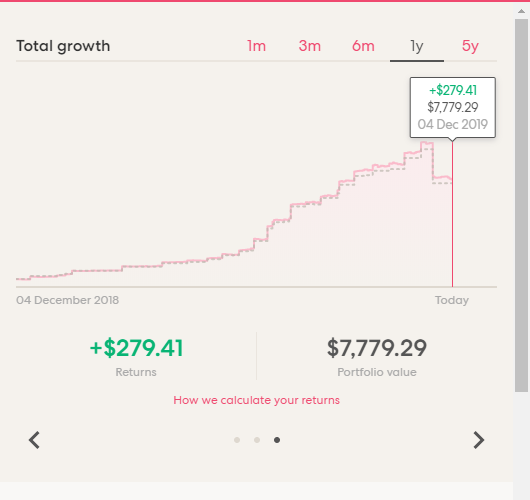 As you can see we currently have a growth portfolio with a sharp drop at the end (more on this in next weeks episode)
 The vast majority of our portfolio is made up of ETF's
As of tonight both the Asia Pacific and US500 are down quite a few percentage points, however I am a long term investor so I am not bothered about ANY  market fluctuations (More on this in upcoming posts)
Thats going to do it for this week folks, see you in the next post! Please send me any questions or leave a comment!
I am super excited to grow my own portfolio and help anyone else along this journey to financial freedom!
Hope for you
We made the decision and we started on the journey. We consistently put away as much money as possible and we still are. It has been extremely rewarding and satisfying seeing our portfolio grow over the past couple of years. This while we are raising a now one-year-old with a second on the way.  I understand that some situations might be better or worse than ours and so I have compassion for that. Some people might just have a spending problem and need to cut back on buying 720 coffee's a week. Others might be in genuinely tough situations with children involved living paycheck to paycheck. I would encourage you to still hold on to hope and do what you can to put some dollars to work. If you are in the second scenario you will most likely have to dig deep and ask yourself how much your time is worth? Are you willing to work really hard, build a side hustle, get a second job etc to start building your own freedom?
Boring is best
The plan and investing strategy I follow is super boring. In once sentence. "Find a good Index fund and go nuts." This is however a lot less glamorous than having a yellow lambo in front of a mansion while I 'teach' you how to buy the 'next big NFT' Boring is best. You will see in the blog I am not trying to sell you anything. The advice is free, it comes with no terms and conditions. I am not saying I won't ever create a community for those who are like-minded and want to get a bit more practical with their plan, however, the blog and all of my content will be here to stay. So get on a boring plan and stick to it!    
Lets dream together
Instead of talking about beautiful ideas and dreams, let's look at how quickly a portfolio can grow once you've hit that magical first 100k. Now please this isn't at all a prediction, I am optimistically dreaming and I want to share hope with you!
Let's take a look.
Assumptions made.
30k per year contribution
10% growth (S&P 500 returned 13.6% for the past decade)
Dividends reinvested at 1.5% per quarter (Realistic assumption looking at the S&P's previous dividend payment)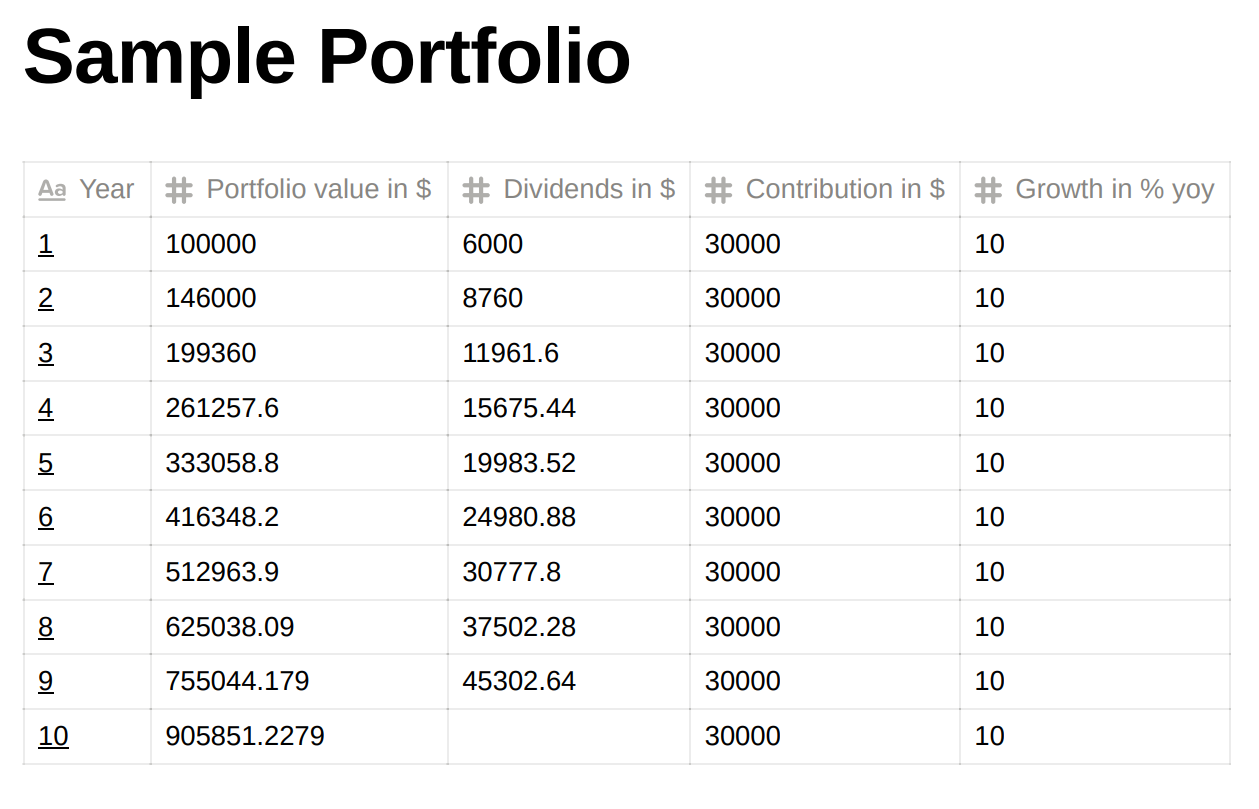 The long and short of it. Compound interest is a beautiful thing. In the 9th year in our example, this family is making an entire salary just off of dividends. I hope this little demonstration has shown you that you can change your life in a decade.
All the best folks! Happy holiday season and I will see you in the new year.